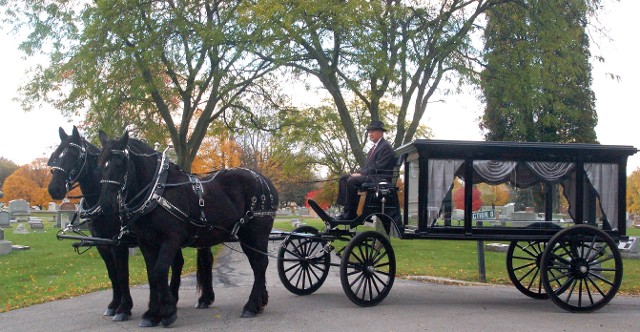 Return to the Blog
Posted on April 7, 2022 by jhcadm
All About Specialized Services At James H. Cole Home for Funerals
There are numerous ways to celebrate the life of your loved one after they pass, and one of the most customizable is through specialized services. At James H. Cole Home for Funerals, we work with you to develop a funeral service that really speaks to the life and memory of the deceased. For some families, this means incorporating special services that really celebrate who your loved one was and how they would like to be remembered.
What Are Specialized Funeral Services?
Whether you want the casket transported in a horse-drawn hearse or you're more interested in a timely dove release to commemorate the deceased, specialized services are unique, fully-custom experiences that can be specifically chosen to honor your loved one.
These services can be selected as part of the funeral planning process. When you meet with a funeral director, ask about what options are available. Depending on the funeral home, these services can often be customized to more accurately reflect the deceased. For example, a military honor guard presentation service can be performed for members of the military who pass away. A branch specific team can be scheduled to present honors to the family at the service location or place of interment.
The Importance of Meeting with a Funeral Director
When it comes to specialized funeral services, it's important to first meet with a funeral director to go over all of your options. There's no rule that says funerals—even traditional funerals—have to follow a set format. What exactly is done to commemorate the life of the deceased is entirely up to the family. A funeral director will be able to walk you through your options as well as assist you with all related paperwork, such as submitting for a death certificate.
Q&A with a Funeral Director
Are there any other specialized services that you offer that are not mentioned above?
Yes, there are a number of specialized services that can be customized to the loved one whom they are meant to honor. Some additional examples of special services include:
Memorial blankets (these can be used as tribute pieces during the service)
DVD tributes
Memorial webpages (tailored to fit the deceased's likes, interests, hobbies, and organization affiliations)
Specialized casket options are also available, such as name engravings, embroidery, and a removable keepsakes compartment
Do clients need to know from the beginning that they want a specialized service, or is this something the funeral director will ask about?
It does help to know if they have general ideas of what they may want, or even that they have the desire to have some sort of personalized service. We can then guide them through their options. If you think you might be interested in a specialized service, bring it up when discussing initial arrangements with a funeral director. But, keep in mind, things can still be added after that—even down the road long after the services have been rendered.
What is the cost of a specialized service?
Cost is entirely dependent upon the service selected and any additional requests the family may have.
How does a specialized service work (and how much does the family need to be involved in the organization)?
James H. Cole Home for Funerals has businesses and organizations we work with to execute the specific requests and needs of each family. We do most (if not all) of the arranging for the services and coordinate everything on the day of the service, so the family can spend time focusing on grieving and celebrating the life of their loved one.
Can you provide some examples of specialized services you have done for families in the past?
Other than those that have been mentioned above, we also coordinate with civil services and fraternal organizations for special presentations to honor the deceased. These presentations can be from government, public, or private organizations.
Considering a specialized service to honor the passing of your loved one? Speak to a funeral director at James H. Cole Home for Funerals to learn more about your options. Our caring and compassionate staff are here to help you honor your loved one in the way you see fit. Reach out to learn more.
Posted in Funeral Industry, General Topics