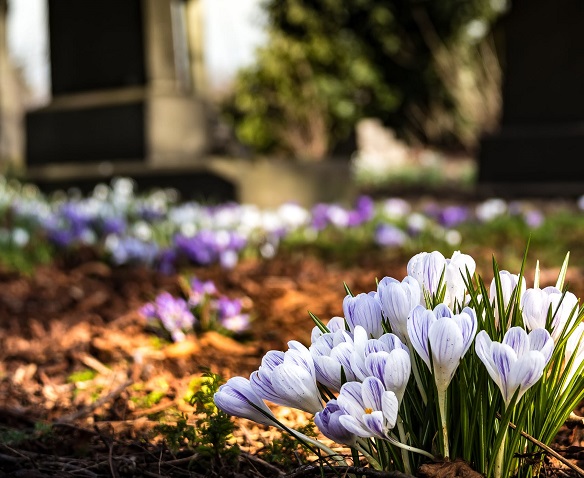 Return to the Blog
Posted on August 25, 2021 by jhcadm
How to Buy a Cemetery Plot
Funeral planning is not easy for anyone, but if you're considering being laid to rest in a cemetery, either for yourself or a loved one, then purchasing a burial plot is something you will eventually need to consider. A burial plot—also referred to as a funeral plot, grave plot, or cemetery plot—is the piece of land where a casket is buried, frequently marked by a monument or marker such as a headstone. To be buried in a cemetery, you must first purchase a burial plot. For many families, burial plots are purchased in groups so families can be laid to rest in the same location when each member passes.
New to the idea or simply don't know where to begin? We're here to help.
Everything You Need to Know  About Burial Plots
Choosing a Location – How to Get Started
Ultimately, the location you select for your burial plot(s) will come down to a couple of key factors: the amount of space you need and the specific cemetery you choose. If you're considering a cemetery burial, it is worth sitting down with your family and discussing your options. How much space do you need? Would you like to purchase plots for more than just your immediate family? What about future family members such as in-laws and children?
While, yes, discussing the burial needs of you and your family is not the easiest discussion to have, it's important to remember that planning these things now can help prevent issues from arising in the future – such as cost and space limitations. If it is important for you and your family to know that your final resting places will be located together, this is something you will want to discuss and plan prior to any funeral arrangements needing to be made.
Another consideration is physical location – do you want to be laid to rest in your hometown? In a different town or city that means a lot to you and your family? Do you have a cemetery in mind; perhaps one where other family members have been laid to rest? For other burial options, you may also want to consider a cemetery that offers community mausoleums and private mausoleums. Private mausoleums can be individual buildings or rooms reserved for the burial of a select number of individuals (e.g., your family), while community mausoleums allow you to purchase space in a shared indoor hall or structure.
It's important to fully discuss your various options with your loved ones as people may have different ideas or opinions of what the "perfect" place looks like or where it's located. Avoid conflict during the immediate funeral planning process by having these discussions early-on so you can guarantee the ideal location in advance.
Selecting a Grave Marker
When thinking of grave markers, often the traditional raised headstone is what immediately comes to mind. However, you might be surprised to learn that there are actually three basic types of markers: tombstones (a "raised headstone"), grave markers (a flat stone placed at the head of a grave), and monuments. You may have also heard of the term "footstone"—quite literally referring to the stone slab placed at the foot of a burial plot, opposite of the headstone, to act as a marker of where the plot ends.
Depending on the cemetery you choose, you may face certain restrictions when it comes to the grave marker you select. Some cemeteries allow only flat stone markers, while others allow fully customized monuments. A headstone (and other grave markers) can typically be ordered through the cemetery where the deceased is buried. However, more competitive pricing may be available from a local monument company or funeral home. Anyone who sells a headstone should be able to provide the engravings for the stone. Do your research and browse your options; it's perfectly okay to compare customization options and pricing in order to determine the best solution for your needs and the needs of your loved ones.
Helpful Resources
At James H. Cole Home for Funerals, we have been helping grieving families with the funeral planning process for more than 100 years. We know first-hand how difficult it can be to make end-of-life decisions, whether you're pre-planning or actively grieving a loss. Our goal is, and has always been, to help make the funeral planning process easier for all those involved.
For individuals who are considering James H. Cole for your funeral needs – or for those researching headstone and monument options in Metro Detroit, we have product samples to view on our website. These are just a few examples of options available to you from our local supplier. Additional carving options can be found on the Inch Memorials website.
To learn more about your burial plot options, including headstone options, headstone carving options, and buying plots for families, reach out to our friendly team of directors. We are happy to help answer any questions you may have so you can make the most educated decision possible when it comes to selecting a burial plot.
Posted in Funeral Industry, General Topics