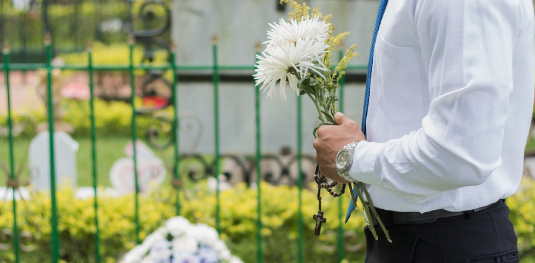 Return to the Blog
Posted on July 22, 2020 by jhcadm
How to Give When You Can't Attend a Funeral
We're currently living in a world where social distancing due to the coronavirus (COVID-19) is still vitally important to the health and safety of ourselves and our communities. However, when it comes to attending funerals, this can make for a difficult choice. All funeral homes are required to limit the number of people who are able to attend funeral services in-person in order to remain in accordance with the law and to protect our clients and our staff alike.
What should you do if you can't attend a funeral in-person?
There is no one way to show your support to the bereaved, and your actions will likely be dictated by how close you are to the deceased and/or the family of the deceased. Here are several of the most common (and the most thoughtful) ways to give when you are unable to attend a funeral:


Send Flowers. The practice of sending flowers to a funeral service has been around for a long time, and there's a reason for it. Show your support by sending flowers to the funeral of the deceased with a message to let the family know you are thinking of them during this difficult time. While beautiful flower arrangements are always a good choice, you might also consider sending the family a plant that they can keep long-after the funeral service.


Send a Gift. Keepsakes are another beautiful way to show the family you care while also providing something they can hold onto forevermore. Whether you're interested in sending a more practical gift or one that fully encapsulates the life of the deceased, this is always a good option to show how much you care. To purchase a keepsake or to browse for ideas, you can check out our online store.


Donate. If you'd rather send money than a gift, there are a few different ways you can donate to the funeral of the deceased. Donate directly to the funeral itself in order to help the family with the cost. (If the funeral is being held at one of our James H. Cole Home for Funerals locations, you can visit our donation portal here.) Include a brief message to let them know you're thinking about them. Or, if you'd rather, you can submit a donation charity in honor of the deceased. Some families opt to set up charity donations prior to the funeral service so guests can (if they so choose) submit a donation to a charity that held significance to the deceased.


Chores/Food. For an option that does not require money, you may choose to help the family of the deceased with chores around the house (e.g. cleaning, grocery shopping, etc.) or making and delivering food to the bereaved. Helping the family with chores will likely depend on how close you are to the family. However, sending food can be a strong show of support, especially during a time when there may be a lot of guests visiting the family's home; therefore, more mouths to feed.


Follow-up. The easiest and most important way to show your support (even if you are unable to attend the funeral) is to follow-up. Call the family to check in, let them know you're thinking about them, and ask if there is anything they need. Families are often overwhelmed during the funeral process and may not know what they need until after the funeral service is over. Showing your support in the weeks and months after the funeral is incredibly important; this is often the loneliest and most difficult time for families as the immediate outpouring of support, which occurs around the time of the funeral, often stops. Maintain contact and make sure the family knows you are thinking about them.
Despite being unable to attend the funeral in-person, show the family of the deceased how much you care with gifts or actions that make a difference. For those interested in virtual ways to attend, James H. Cole Home for Funerals does offer livestream services for those funerals held at our Northwest Chapel (soon at our Blvd Chapel as well). During the pandemic, we've been providing this service at no charge. Services can be viewed at: livestream.com/jameshcole. If you have any further questions about how you can show your support to the bereaved or how you can attend a virtual service, please reach out to us at (313) 873-0771 or info@jameshcole.com, and we'd be happy to talk you through your options.
Posted in Funeral Industry, General Topics