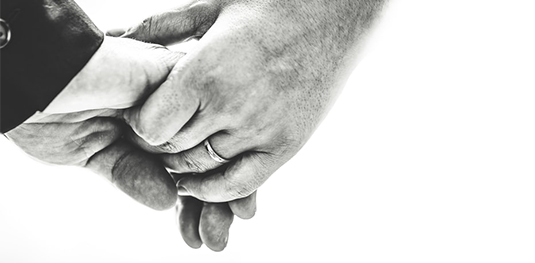 Return to the Blog
Posted on June 17, 2020 by jhcadm
How to Help Someone Who Is Grieving
"Throughout the 100+ year legacy of our firm, we have found that everyone grieves differently. Our experience has taught us that most bereaved individuals just want to feel that they are cared for and supported through their grieving process. The level of support or what exactly "support" is to that person will vary, but just being a consistent presence in their life can mean a lot."
– Antonio Green, Director at James H. Cole Home for Funerals
Grief is a complex emotion and grieving the loss of a loved one often takes time. For those who are witnessing someone grieve, it can be difficult to know exactly how you can help. The truth is, the grieving process is slightly different for every person, but there are still plenty of ways you can help. We've compiled a basic list of do's and don'ts to assist you in supporting someone who is grieving.
Do
DO be willing to listen. For those who are grieving, it can be therapeutic to talk about the emotions they are feeling or their memories of the person they've lost. Be a willing audience and provide them with a comfortable environment to talk through their grief. However, it's important to remember that this conversation should never be forced. If someone who is grieving would like to be left alone, respect this and give them their space.
DO acknowledge the situation for what it is. Losing a loved one is hard, and the grieving process can be difficult. It's okay to acknowledge this. Trying to give the situation a "positive spin" might seem helpful at first, but what you're actually doing is telling the person who is grieving that their feelings (sadness, frustration, anger – whatever they might be) are not valid. Instead, talk about it for what it is: losing a loved one is a bad situation and it feels terrible – and that's okay.
DO be conscious of what you say. For some reason, Americans often feel the need to avoid the word "died" when talking to someone who is grieving. However, this can actually do more harm than good. To the person who is grieving, it feels like the speaker is refusing to acknowledge the reality of their situation. So, instead of using roundabout language to refer to death (e.g "passed away," "moved on," etc.), it is better to use the word "died."
DO create new traditions. After losing a loved one, events like birthdays and holidays, which are often surrounded by tradition, can be difficult. A unique way to help someone who is grieving during these times is to start new traditions. You are not erasing old memories, but rather, creating new ones – something to look forward to – and this can help change the focus to something more positive.
Don't
DON'T compare someone else's experience to your own. Unless it is directly related, don't try to compare your grieving experience to someone else's. We've said it before, and we'll say it again: everyone's experiences with grief are unique. Do not discredit the emotions someone is feeling by making unrelated comparisons.
DON'T ask "how are you?" The answer to that should be obvious. If someone is experiencing grief over the loss of a loved one, they are not feeling good. However, this is not a socially accepted way of answer the question "how are you?" Therefore, the person who is grieving may feel compelled to provide an answer that is untrue in order to prevent others from feeling uncomfortable.
DON'T ask "can I do anything?" This puts unneeded pressure on the person who is grieving as they are expected to provide you with something to do. Instead, do small things to help like cleaning the house or getting groceries. This will provide your loved one with more time to grieve as needed.
Whether you are grieving yourself or trying to help someone who is grieving, James H. Cole offers free grief support services to help you along the way. These free, educational presentations facilitated by Hospice of Michigan will provide you with strategies for coping with grief. For questions about our grief support services or to learn more about how you can get involved, reach out to us by phone at (313) 873-0771 or by email at info@jameshcole.com.
Posted in Funeral Industry, General Topics