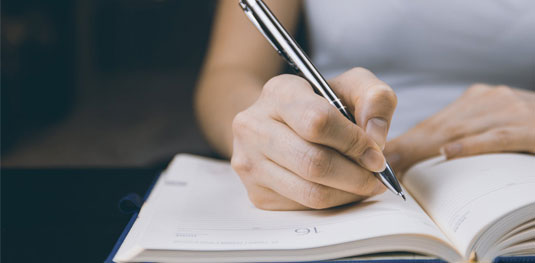 Return to the Blog
Posted on March 24, 2020 by jhcadm
Pre-Planning Your Funeral: Why It's Important
There's never a good time to talk about planning your own funeral. For many people, death is a very difficult topic, and it's not one we care to think about on a regular basis – especially our own. However, as professionals in the funeral industry, we're here to share with you how important it is to plan ahead and how much time, money, stress, and energy you can save by pre-planning your funeral.
Expenses
Let's start with the funeral topic that is most often asked about: cost. Can pre-planning your funeral help you save money? And the answer is yes. There are a number of factors at play when it comes to cost, but a few of the big ones are as follows:
Avoid possible inflation. Pre-planning and pre-paying for your funeral can help you avoid possible prices hikes in the future. As the economy fluctuates, the cost for products and services tend to rise over time. If you pay for your funeral now, you can prevent your family from having to pay higher costs in the future.
Eliminate "pressure purchases". When funerals are not pre-planned and family members must make important preparation decisions in a short time frame, individuals may feel pressured by time restraints to make costly choices. By pre-planning your funeral, you are making sure your loved ones aren't scrambling to make decisions. Instead, everything is clearly laid out, so no pressure purchases will be made.
Time and Stress
Think of pre-planning your funeral as giving a gift to your family. No decisions are made out of emotion or stress, and your family members are given the necessary time to grieve. For your own peace of mind, you know that everything is prepared and taken care of, so nothing will slip through the cracks.
You don't need to rush! You have time to make decisions with your loved ones. In fact, planning ahead gives you the flexibility to change your mind on details if necessary. This is not something that cannot be done when trying to quickly plan a funeral for someone who is already departed.
You have the opportunity to make everything perfect in advance for a celebration of life that flawlessly reflects you, your passions, and the people you love.
Personalization
What not many people consider when it comes to pre-planning your funeral is the personalization options that come along with it. By planning your funeral yourself, you can make choices that best represent your preference. Everything from choosing your style of service (traditional, cremation) to the flowers you want displayed, you are able to make these decisions on your own and with a clear mind.
Want something more specialized? You have the time to make these plans a reality. Incorporate your favorite music, verses from religious texts, gather pictures, ask friends and family members to contribute their favorite memories – the list goes on. Search for the ideal venue, tour funeral homes, and ask questions about your options; all of these things are made possible when you plan ahead.
And, in addition to personalization, you're also able to gather and keep track of important records and documentation that your family members may need upon your passing. This might include your birth certificate, Living Will and Testament, insurance, any pre-planning documentation, etc. Organizing these documents in advance will make the funeral process significantly easier for your surviving family members.
Common Questions We Receive About Funeral Pre-Planning
What happens if I pass while still making payments on a pre-arrangement?
Once you have established a pre-arrangement and began making payments, you have nothing to worry about. Your pre-arranged plan acts as an insurance policy. Not only does it lock in the price at today's rate, it will also pay off your funeral plan in full in the event that you pass before you pay it off.
What happens if I move out of the area and my family chooses to handle my arrangements elsewhere?
Just like an insurance policy, your pre-arrangement can be used anywhere for the purpose of paying the costs of your final disposition. A different funeral home may not honor the same price guarantee as we have set up with you, but you will be able to apply the current value of the policy toward whatever services you select.
What happens if the funeral home I make my pre-arrangements with goes out of business?
The most important aspect of establishing a pre-arrangement is making sure you choose a reputable firm and that you receive proof your plan is in place with a Funeral Trust account or an Insurance Company. This confirmation may be in the form of an actual policy from an insurance company, a copy of the filed contract with a funeral trust, or a bank account showing the purchaser as an owner or joint/co-owner.
Planning for your funeral can be an overwhelming process. At James H. Cole Home for Funerals, we're here for you every step of the way. With over 100 years in operation, we know exactly what's needed when planning a funeral, and we can help make yours truly special. Reach out to us by phone or email, or message us on Facebook to learn more.
Posted in Funeral Industry, General Topics