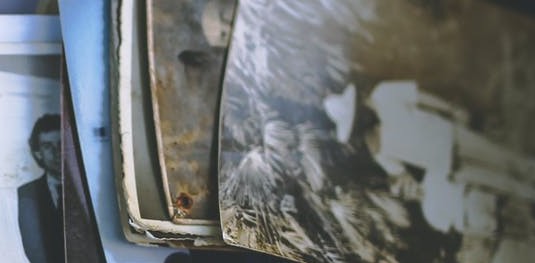 Return to the Blog
Posted on November 17, 2020 by jhcadm
Why It's Important to Tell Your Life Story
Your life story deserves to be heard, and who better to tell it than you? With 100 years of experience in the funeral industry, we've witnessed first-hand how important a person's life story can be to the people who love them. But, as it turns out, your life story can be equally as important to you. The simple process of documenting your life story can have positive effects on your overall mental health and well-being.
Why Tell Your Story
According to Psychology Today, the way in which you interpret the events in your life can have a direct impact on how you see yourself and your overall outlook on life. This is called "narrative psychology," and can provide us with insights on how we understand our place in the world, whether we are optimists or pessimists – the list goes on.
You may also find this process beneficial in terms of exercising your memory and recall capabilities; something that becomes ever-more important the older we become. Acknowledge the events that formed your life and learn something from your own experiences. Revisiting challenges you faced in the past can help you visualize a new approach to challenges you face today.
In addition to your own mental health, telling your story can also be highly valuable to your family. Knowing your history, where you come from, and stories from your life can have extremely positive – even healing – effects for family members after your passing. It is a way to both honor your life and provide current and future generations the knowledge of where they come from and who their ancestors are.
How to Tell Your Story
You've decided to tell your story, but how can you do it? What form should it take?
Luckily, the way in which you choose to tell your story can be as unique as you are. Write it down in a narrative (story) format, scrapbook it, create a collection of anecdotes, create a website – there are no limits.
If you're not sure how to get started, start by defining what key pieces of information you want to communicate to your family members, or maybe to yourself. Do you want them to know about your family history? Do you want them to know about your personality – your likes and dislikes, etc.? Use this as a jumping-off point and begin to outline the information you want to gather as a result.
From there, create a plan. Outline the story you want to tell and establish goals for yourself. If you want to document the different members of your family, schedule times and due dates for writing out their biographies. Interested in sorting through old family photos that you have in storage? Break the project up into smaller pieces and set a deadline for when you want to sort through each portion. Collect documents that are important to you and your story: letters, photographs, pieces of art, etc. and set those aside in a safe place.
Share Your Story with the World
Once your plan is in place and you've been able to collect and write down your stories, it's time to share them. Pass them along to family and friends, store them for later, or publish them using an online service. One such online service is called Be Remembered and allows you to compile all of your memories and documents in one place. At James H. Cole, this is a service we're very familiar with, which is why we highlight it in the Resources section of our website. You can tell your story and record it for future generations, all in one place.
Posted in Funeral Industry, General Topics