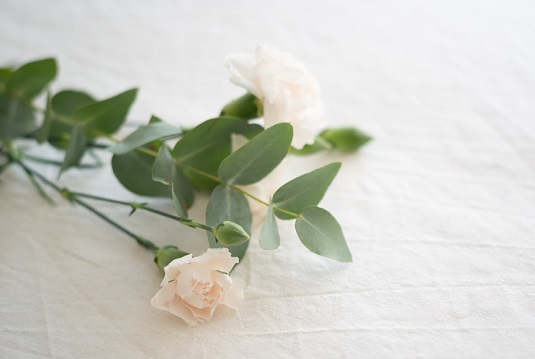 Return to the Blog
Posted on July 28, 2021 by jhcadm
Memorial Gifts, Keepsakes & Sympathy Gifts: Everything You Need to Know
When it comes to showing your love and support to a grieving friend or family member, there are a number of custom gift options to choose from. While sending flowers is a standard funeral practice in the United States, what a lot of people don't realize is that there are a number of other memorial gifts and keepsakes that can be created specifically to celebrate the life of the deceased. These make for wonderful gifts as they're highly customizable and are items that can be kept and treasured by the family forever.
Keepsakes and Sympathy Gifts at James H. Cole
Funeral and memorial keepsakes are available in a wide variety of options; this can include everything from memorial books and sign-in books (for use at the funeral service) to crystal sculptures, photo blankets, and more. At James H. Cole Home for Funerals, keepsakes just like these are available on our online store; you can browse your options, make a purchase, and choose to have the item(s) sent to you or directly to the funeral service. This allows families to be able to display the memorials of their loved ones and share these memories with those in attendance.
For many of these gifts, you can choose to add the deceased's name, a custom message, and/or incorporate an image for an even more custom piece.
Memorial jewelry pieces are another personal and beloved memorial gift option. Pieces – such as necklaces – can be fully customized with etchings of a loved one's fingerprint, image, or even handwritten note. Military emblems can also be created to honor the life and service of the deceased. Each emblem can be customized to match the proper military branch and unit. Another common jewelry option is an urn necklace. These come in a wide variety of colors and styles and uniquely allow you to carry the deceased close to your heart; this can be a small amount of ashes, a lock of hair, a piece of fabric from their favorite outfit – the possibilities are endless.
Other Sympathy Gift Ideas
If keepsakes are not your preferred method for showing your love and support, you may be more interested in choosing a gift that is more personal to your relationship with the deceased. Some individuals prefer to create homemade gifts to share their love and memories while simultaneously offering support to the bereaved family. This could include a decorative memorial plate – something that could be hung up in remembrance – or a memory jar that allows people to write down their favorite memories of the deceased.
You may also opt to do something big and bold, such as naming a star in honor of a loved one who has passed.
If you want a gift that will be highly personal to the family of the deceased, consider what might be useful in their day-to-day lives that still acts as a memorial piece. Statues or plaques that can be displayed in a garden, wind chimes, custom lights or candles, or even blankets are all great options.
At the end of the day, the best keepsake and/or memorial gift is one that is highly specific to the person you're giving it to as well as the deceased. If this is an option you're considering, think about what the receiver would prefer – would they like flowers or something more practical?
Do you want the keepsake to be able to last for a significant amount of time? Make sure you're choosing a gift with the receiver in mind.
Have questions about funeral services, keepsakes, and/or the options available to you for each? Reach out to our team at James H. Cole Home for Funerals to talk to one of our passionate and caring experts.
Posted in Uncategorized